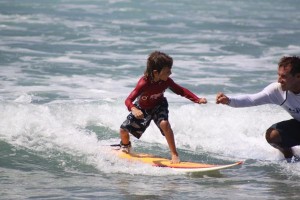 If Alan can teach me to surf, he can teach anyone. I started on holiday a few years ago and now I'm back on my board every year. I can't thank you enough Alan!!
- Anna, Toronto, Canada
Getting a chance to learn from a guy who came 7th in the World as a junior at the 1986 World Championships held in my home town of Newquay when I was a teenager,second overall in the 1991 ASP East Professional surfing circuit and won two of the biggest Professional events on the USA East coast is a dream come true.  Alan's the man.  The Soup Bowl rocks. The water is 29C! Life is good.
- Shaun, Cornwall, England
When my son wanted to try surfing I was a little nervous, but Alan took him out and showed him exactly what to do. Memories of a lifetime!
- Stacey, Dallas, USA
I went to Barbados for my 60th Birthday,never thought I would even think of trying surfing at my age,I was recommended by a friend to call Alan Burke,I took a 2 hour private lesson and it was the best 2 hrs of my vacation,although Alan has a reputation of getting you to stand on your very first wave,I was up on my second and could not believe it,I was a bit stiff the next day but it felt fantastic!! Thank you Mr Burke
-Laura Queenstown NZ